ABSOLUTEBLACK OVAL DIRECT MOUNT CHAINRING FOR SHIMANO CRANKS 12SPD
---
---
---
Share this product:
OVAL DIRECT MOUNT CHAINRING FOR SHIMANO CRANKS, 12SPD HYPERGLIDE+ CHAIN
ABSOLUTE BLACK Chainring Direct Mount oval | 12-speed HG + for Shimano XTR M9100 / XT M8100 / SLX M7100 crank | black
The matching oval Direct-Mount chainrings for Shimano 12-speed cranks . Absolute Black chainrings are CNC machined from one piece of aluminum and then anodized, resulting in an extremely stiff and durable chainring. The chainrings have special teeth that prevent the chain from jumping off prematurely. The principle follows that of the SRAM chainrings with X-Sync teeth. With an off-set of 51 millimeters, the chainrings are suitable for both 142 millimeters standard and 148 millimeters BOOST rear hub.
The ovalization of the chainrings increases performance through driveline variation and drag optimization. When pedaling with the legs, the natural strengths and weaknesses are reconciled. Thus, a better use of the stronger muscle groups is achieved and in the weaker muscles a balance in the working path (lower stroke) created.
NOTE: The sprocket teeth are specially designed to fit Shimano 12-speed HG + chainrings and only work with the corresponding Shimano CN-M9100 / M8100 / M7100 HG +) chain.
SPECIFICATIONS
| | |
| --- | --- |
| Size (Mass +/-1g) | 28T (49g), 30T (54g), 32T (60g), 34T (65g), 36T (69g) |
| Color | Black, Grey, Red, Gold |
| Compatibility? | Fits to Shimano XTR M9100 , M9120, M9125, M9130, XT M8100, M8120, M8130 , SLX M7100, M7120, M7130, Deore M6100, M6120, M6130 & FC-MT900 cranksets. Works ONLY with CN-M9100, 8100, 7100 & 6100 Shimano 12spd Hyperglide+ chain. |
| Material | cnc machined 7075 Txxx Aluminum. Long-lasting construction! Type II anodizing |
| Chainline | Dependent on the crank model. Every crank model has different axle length, but same chainrings. |
| Ovality | Optimized to each size separately. Range: 10.2-14.4% and Timing of 110.5-116.3° after TDC (top dead center) Patent Pending |
It's a Direct Mount chainring so please use original lockring to mount it on the crank. Always use a new chain with a new chainring.
If you wish to check for frame clearance with new oval ring, below you can find measurement of biggest dimension of the oval (tip to tip of tooth):28T: 127mm ; 30T: 134mm ; 32T: 143mm ; 34T: 151mm
ADVANTAGES OF OUR SPECIAL OVAL CHAINRINGS FOR SHIMANO 12SPD:
We mastered our oval chainrings to perfection, so you can get best possible advantage from the oval/elliptical shape.

Finest design to provide excellent weight to strength ratio

One of a kind special oval shape (Patent Pending)

Greatly improves traction and climbing abilities

Unique Patent Pending narrow-wide teeth profiles to keep your chain in place for minimum 12 months!

Special 3D teeth machining for ultimate mud relief decrease wear and noise dramatically

All rings have built in threads for easy of mounting and reduction in weight

Superb quality and great look

You will ride faster using ovals. If you keep using round ring then others will get quicker.

You will not "feel" the oval shape at all

Reduces stress on knees


HOW TO MOUNT ABSOLUTEBLACK OVAL CHAINRING TO SHIMANO 12SPD HYPERGLIDE+ CRANK:
Using Hollowtech II BB Removal Tool (like BBB BTL-116 ), carefully open the lockring that holds the chainring on the crank(normal threads). Once the lockring is removed, take off old chainring, re-grease the splines on the crank. Place new oval chainring with convex side to the crank. Chainring/crank has special splines that only fit one way. Close the lockring to 35-50Nm of force. Chainring is only compatible with CN-M9100, M8100, M7100 & M6100 Shimano 12spd Hyperglide+ chains. Using other chains may cause chain to drop very easily from the chainring due to thinner than usual teeth.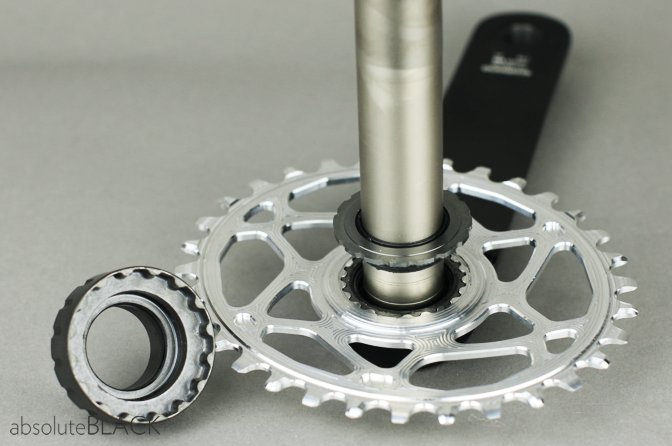 Oval (elliptical) chainring does not compromise the work of clutch mechanism in rear derailleur. It also does not require chain tensioner when using in singlespeed application. Riding out of saddle on the uphill will become more pleasant.
Ovality of the chainring is in range of 10-14% (dependent on size) and feels perfectly round when riding. These chainrings also help you to recover after knee injuries as pedaling becomes smoother and less exhausting. It is the most advanced oval chainring currently on the market.
| | |
| --- | --- |
| Chain options | 12spd xtr9100, 8100, 7100 & 6100 Shimano 12spd Hyperglide+ chain only  |
| Chainguide needed? | No. But if you want one then chain guide should have 2 teeth more capacity than nominal oval ring size. |